With the jack up barge lift technology, be more precise and save time for your geotechnical investigations up to 30 meters water deep
Magma International is the only geotechnical group in Africa to have its own self-elevating platforms sized and equipped for aquatic, marine or river geotechnical works.
Platforms available in every part of Africa
For Magma International, only aquatic boreholes made from a fixed benchmark can guarantee precise measurements and provide reliable geotechnical tests, regardless of the constraints: wind, swell, tide, current or lapping. MAGMA owns jackup fleet for your projects:
-  CHINGUITTY Jackup, upto 30m water depth
- CARTHAGE Jackup, upto 17m water depth
-LAAYOUN Jackup, upto 8m water depth
- Amphiby boat TERANGA, from top of beach upto 6m water depth
Financial risk covered by Magma
Magma International is the only structure offering to its customers a secure commercial package.
It combines the costs of surveys and those of platforms to limit the risks related to the rental period of platforms.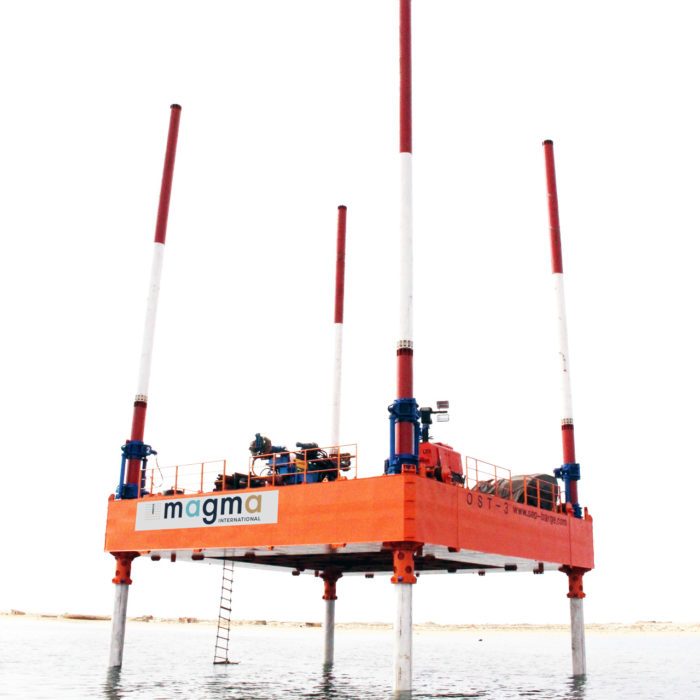 Types of investigations
Fields of applications
Types of investigations
Core Drilling
Pressuremeter, SPT, CPT
Water tests: Lugeon and Lefranc
Environmental Diagnostics
Geological studies
Fields of applications
Harbours developments
Dredging and material surveys
Foundations of engineering structures
Rejectors, pipelines, cable landings and pipes
Environmental Diagnosis
Geological studies