Since 2012, the Magma group has its own certified laboratories operating throughout Africa.
Our laboratories are equipped with equipments required to carry out all the tests for construction projects for buildings, engineering structures, roads, harbours or mines.
7 300 m² of ISO certified laboratory following to EN, ASTM & ASHTOO standards
All these tests are carried out in accordance with European and American standards. Our laboratory equipment is periodically calibrated by approved and competent bodies.
The staff is fully qualified to carry out all laboratory tests and comply with the specifications in terms of quality and required deadlines.
The Magma group's laboratories are spread over several sites in Africa to guarantee rapid intervention and proximity to customers.
40 technicians and engineers at your service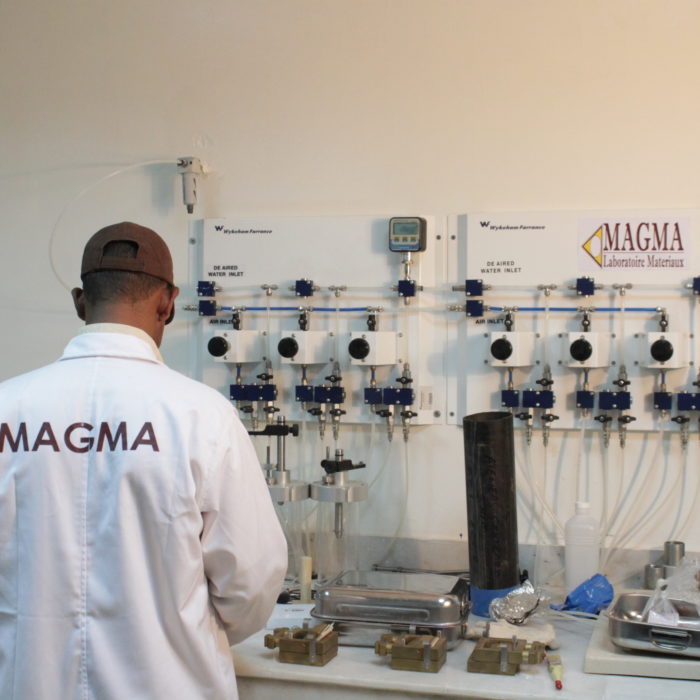 Learn more about
our services

Types of investigation
Fields of application
Types of investigation
Complete identification surveys
Complete chemical analysis
Automated shear tests (triaxial)
Oedometric tests (compressibility and swelling)
Mechanical tests on concrete and rock
Hydraulic tests
Bitumen testing
Tests on steels
Fields of application
Harbours developments
Dredging and material surveys
Foundations of engineering structures
Rejectors, pipelines, cable landings and pipes
Environmental Diagnosis
Geological studies